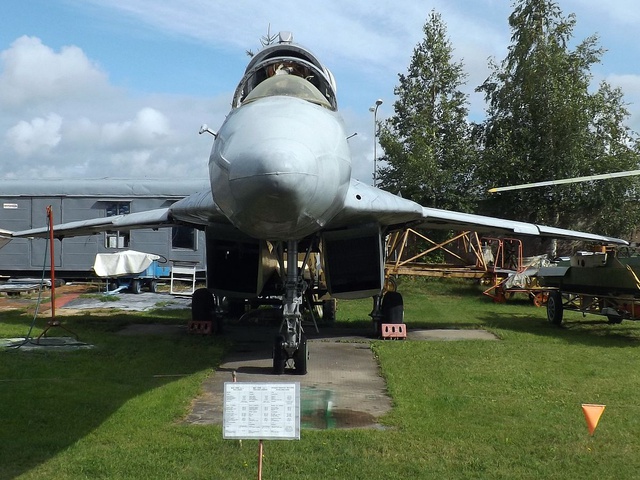 In 1976 Mikoyan Design Bureau was ordered by Government to develop new MiG-29UB («izdeliye 9-51») trainig variant to ensure effective Soviet Air Force pilots' training and to familiarize them with modern MiG-29 Fulcrum fighter more quickly. With purpose of placing second cockpit (for pilot-instructor) without changing airframe design sufficiently it was decided to unmount all radar-aiming equipment, including N019 radar, but for aiming and armament use was fully retained optical aiming-navigatonal package with optical station KOLS and NSC. It was slightly updated due to doubled indication and control system was integrated and this package received new designation OEPrNK-29UB.
In accordance with such MiG-29UB weapons system simplification there were omitted radar-aimed air-to-air missiles and remained only integrated cannon together with infrared-aimed missiles, conventional bombs and unguided rockets which were mounted under six wing pylons. Instructor's cockpit was placed behind the trainee's station and was equipped with full controls and indication package and with the same ejection seat. Canopy which covered both cockpits was provided with instructor's periscope and large mirror which deployed during take-off, landing and taxiing.
OEPrNK-29UB system allowed to train pilots and, if necessary, to perform close combat (so-called dogfight) and also to perform strike combat visually during daylight using bombs and unguided rockets, similarly to single-seater. For interception flights traininig, radar and usage of missiles training and also to train for actions with several systems inoperative, two-seater was equipped with appropriate simulations package.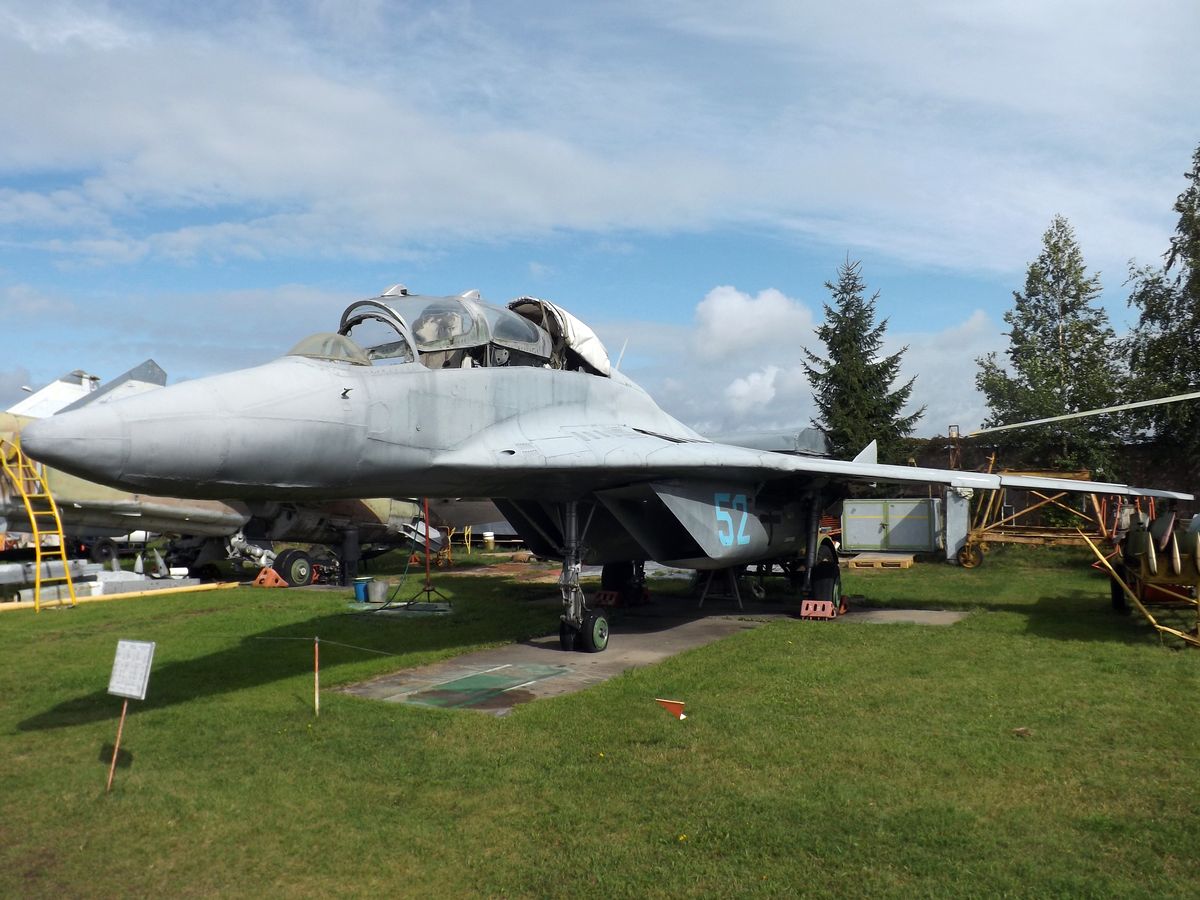 First MiG-29UB prototype - №951 (serial number 51) performed its maiden flight on April 29th, 1981. In 1982 Design Bureau produced second prototype which received №952 (serial number 52). Its first flight took place on August 23rd, 1982 at Zhukovsky aerodrome, not far from Moscow. Test flights continued till April 10th, 1986 when last, 213th, flight was performed. After that 52nd was disassembled and its wing was used for MiG-29 prototype №916. Remaining parts were sent to Riga Military Aviation Engineers High School as training aid for future Air Force maintenance engineers. In 1994 High School was disbanded and aircraft was handed over to our Museum, with valuable Olegs Tilbergs' help, famous Latvian artist. At present time this MiG-29UB is in our display and remains the most modern aircraft in Museum's collection.
MiG-29UB was put into mass production in 1985 at Gorky (now Nizhny Novgorod) Aviation Plant. Officially two-seater was added to Soviet Air Force's armoury in 1991. At that time almost 200 airframes were built. MiG-29UB was exported equally with single-seater to Algeria, Bangladesh, Burma, Bulgaria, Hungary, East Germany, India, Iraq, Iran, Kazakhstan, Cuba, Malaysia, Peru, Poland, Romania, North Korea, Northern Yemen, Syria, Czechoslovakia, Ethiopia, Eritrea, Yugoslavia. Owing to 1990's geopolitical changes MiG-29's were added to Air Forces of Belorussia, Germany, Moldova, Slovakia, Turkmenistan, Uzbekistan and Ukraine.
Mikoyan MiG-29UB technical data:
Crew
2
Length, m
17,42
Height, m
4,73
Wingspan, m
11,36
Wing area, m2
31,80
Empty aircraft weight, kg
10800
Normal take-off weight, kg
14600
Engine
2 х RD-33,

thrust 5040 kgf (with afterburner 8300 kgf) each
Fuel uplift
4650 litres in internal tanks +

1500 litres in auxiliary drop tank
Max speed at altitude, kts=1205 (М=2.1)
Max speed at low level, kts
810
Max altitude, ft
58275
Max range, miles
1140
Take-off/landing run, m
700/450
Max overstress
+9,0...-3,0
Armament
1 х 30-мм cannon GSh-301 (150 rounds);

6 х air-to-air missiles R-73 AA-11 Archer or R-60М or

2000 kg load on six underwing pylons including 250- or 500-kg bombs, КМGU-2 pods, ZB-500 napalm bombs or

80 х unguided rockets S-8 in pods B-8М1 or

6 x unguided rockets S-24B or

2 х cannon pods UPK-23
Share on Facebook