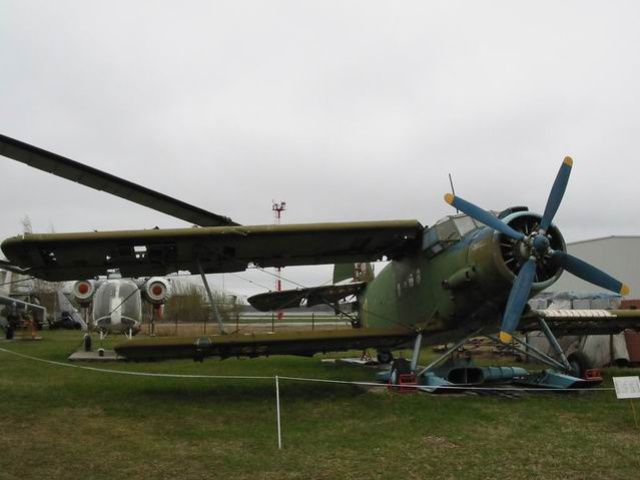 Light multi-purpose aircraft. Nowadays remains the largest biplane (biplane is the aircraft with two wings) in the world.
Museum aircraft is coded 22-yellow and has c/n 11047307 (first digit means nothing, 10 – is the batch number, 473 – is the Kiev Aviation Plant (nowadays "Aviant") number and 07 – aircraft number in the batch).
First flight was on August 31st, 1947 (test pilot N. Volodin). In August 1948 An-2 entered Aeroflot service. Aircraft was designed as agricultural aircraft, but soon it became multi-purpose thanks to its reliability and performance and was built in 18 variants. Serial production in Soviet Union ended in 1960 after more than 5000 copies were built. And the same year Polish aircraft producing corporation WSK – Mielec began to produce this type under license. There were built more than 12000 copies (10440 of them were bought by the USSR) till 1992. China also bought the license to produce this type and was producing them till 1995 (950 copies were built) under designation Y-5.

Antonov An-2 is the sole aircraft in the world which was produced more than 45 years. Nowadays Antonov biplanes are flying all over the world. 26 countries bought this type for their air forces and civil organizations.

Air forces widely use this aircraft, despite of its archaic look, as transport, liaison and paratrooper training. An-2 is very popular among parachute jumpers.

Museum's aircraft was towed by Viktor Talpa from Nakotne. It was in very bad condition, almost completely disassembled.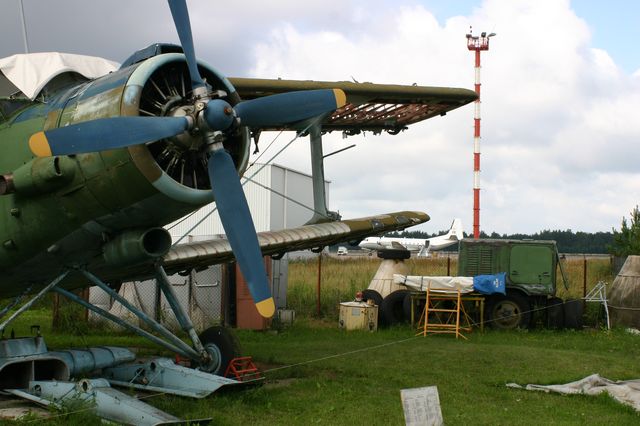 Antonov An-2 characteristics:
| | |
| --- | --- |
| Aircraft length, meters | 12,64 |
| Aircraft height, meters | 4,68 |
| Wingspan, meters | 18,18 |
| Wing area, sq. meters | |
| Upper wing | 43,55 |
| Lower wing | 27,96 |
| Weight, kg | |
| Empty | 3400 |
| Max take-off | 5250 |
| Engine | Piston Shevtsov ASh-62IR |
| Power, hp | 1х1000 |
| Maximum speed, km/h | 250 |
| Cruising speed, km/h | 185 |
| Range, km | 2000 |
| Altitude, m | 4400 |
| Take-off run, m | 150 |
| Landing run, m | 170 |
| Fuel consumption, kg/h | 140 |
| Crew | 2 |
| Commercial load | 12 passengers or 1300 kg cargo |
Share on Facebook